Mariachis Medellin spread love throughout the city
Mariachis Medellin, that's right Mariachis in Medellin, Colombia not Mexico.  There is an old tradition in Colombia that stems back from many years of watching Mexican movies and the cowboys and indians tales that many people grew up with.  That is to serenade a loved one with a Mariachi or a trio of musicians that will sing romantic songs to that special person.  This tradition hasn't been lost with the MTV generation either.  You can still see on a regular basis many groups of Mariachis in Medellin playing throughout the city, in apartment complexes or private homes, night and day for people of all ages.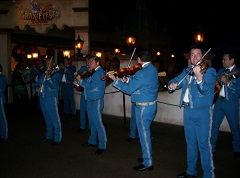 Although it is probably quite common to see Mariachis playing at Mexican restaurants in many countries in the US and Europe while we eat our Fajitas and such, it is very seldom that we have the opportunity to hire one to serenade our loved ones.  Well, in Medellin this tradition has remain strong for many years and now it is even trendier.  This is more obvious on the weekends, when you can hear the sounds of crisp Mexican music fill the air in many parts of the city.
Sending Love with Mariachis in Medellin
However, the new trend in the use of Mariachis in Medellin and in other cities of Colombia is to serenade your loved ones from abroad by hiring the services of a mariachi in Medellin or any of the other cities to surprise that person at their place of business or at home.  Whether it be a special date, such as a birthday, anniversary, graduation or any day to say "I love you", people from all over the world who have a loved one in Colombia are the steam behind this new mariachi boom.
There is something magically romantic about listening and watching mariachis playing those romantic songs.  Even if you don't understand the lyrics to the songs, it is hard to argue that this type of music captures your attention, specially when you are in love.  Watch the following video and experience the magic of Mexican music yourself.
After watching this video of this mariachi from Medellin, it is easy to understand why so many people are choosing this type of gift when it comes to their loved ones.  There are many other ways to express feelings, such as sending flowers and gifts, but in Medellin, serenading with mariachis is definitely here to stay for a while.  It is now a lot more common among people who live in Medellin and others who have loved ones here, to spend a few extra bucks on this type of surprise rather than other available options.
People say that using Mariachis in Medellin to serenade someone is more appealing because most people remember it for a longer time.  In Medelln there are many options when it comes to gifts that you can send and it is very easy to find them online, but Mariachis Medellin is probably what most people are searching for nowadays, here and from abroad.
So whether you want to experience nightlife in Medellin out on the town or want to send someone an expression of your feelings, chances are at some point you will also be searching for Mariachis Medellin.